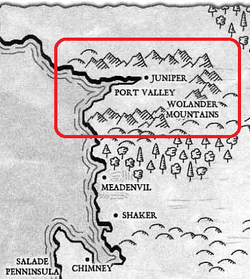 The Wolander Mountains are a significant mountain range in the far northwestern reaches of the northern continent. A river runs between two of the snow-topped arms of the Wolanders, around which was built the large port city of Juniper. The Wolanders extend at least one hundred miles east of Juniper. West of Juniper, they reach the sea. Nothing north or west of them (except the ocean) is mentioned in the Annals, so the Wolanders occupy the northwestern corner of the known map of the homeworld.
Shadows LingerEdit
Except for a small advance team that was ferried to Juniper via flying carpet, the whole Black Company made the westward march across the Wolanders into Juniper in Shadows Linger. The Company's survivors of the Battle of Juniper departed the city but avoided the Wolanders altogether by traveling south along the ocean coast.
Community content is available under
CC-BY-SA
unless otherwise noted.