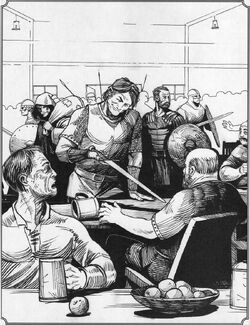 Verus was the grandfather of the managing family of the Mole Tavern in Beryl. He was a member or sympathizer of a group called the Blues, and was complicit in poisoning four members of the Black Company: Walleye and Wild Bruce, who died, and Pokey and Curly, who were saved by Croaker's antidote. Company sergeant Mercy stormed into the Mole and confronted Verus, announcing that he was charged with 2 counts of attempted murder and 2 counts of murder by the Syndic's magistrates. Verus played the fool, and a bloodbath ensued during which Verus was presumably captured or killed.
Community content is available under
CC-BY-SA
unless otherwise noted.