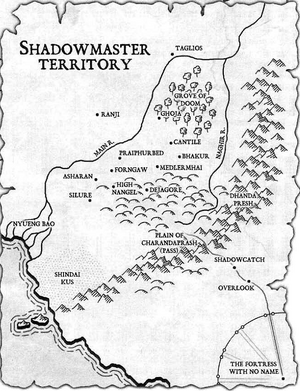 The Shadowlands were the first territories occupied by the Shadowmasters known as Stormshadow, Moonshadow, Shadowspinner, and their leader, Longshadow. Originally it was a peaceful region, with no wars or even armies. However the Shadowmasters brought both, and divided the area up among themselves, renaming cities and building castles.
A chronology of Shadowlands conquests is as follows:
Also, New Dhar was a noteworthy city within the Shadowlands, but the chronology of its conquest was not recorded in the Annals.
The Shadowlands were liberated during the Shadowmaster wars by the Taglian armies of Croaker the Liberator and his Black Company. This was completed during She Is the Darkness.
Then, during the 15-year-gap between She Is the Darkness and Water Sleeps, all the territories formerly belonging to the Shadowlands were subsequently annexed by Soulcatcher when she consolidated her new empire, the Protectorate. Many Shadowlanders fought her alongside their former enemy, the Black Company, but were defeated by Soulcatcher's Great General – Mogaba – during the Kiaulune wars.
Finally, in Soldiers Live, the former Shadowlands were liberated from the Protectorate with relatively little bloodshed until the reconstituted Black Company clashed with Soulcatcher at the Battle of the Middle Ground.
Community content is available under
CC-BY-SA
unless otherwise noted.