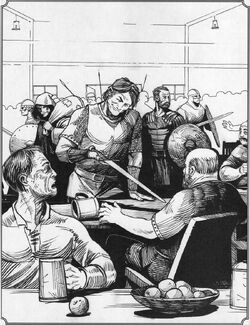 The Mole Tavern was a bar in the city of Beryl owned by a local grandfather named Verus and his family. It was the site of the very first clash of arms in the Black Company series.
The structure had front and back doors, two windows, a wine cellar with a hidden chamber, and, like every structure in the city, a roof hatch for use in the sweltering Beryl nights. It was a favorite watering hole for the mercenaries of the Black Company until Croaker's investigations revealed a murderous plot.
The Black CompanyEdit
During The Black Company, the members of the managing family of the Mole were secret members of the Blues, a political group which was in violent opposition to the Reds. The ruler of the city, the Syndic, was a Red, and the Black Company was in his service as bodyguards.
Croaker and many other Company brothers drank at the establishment, unaware that the proprietors and local customers were their enemies. The Blues of the Mole Tavern poisoned four Company men: Walleye and Wild Bruce, who died; and Pokey and Curly, who were saved by Croaker's antidote. Croaker did some investigative work and discovered that all four men had drinks at the Mole. After Croaker convinced the Captain of his findings, the Company sergeant Mercy was given the task to lead a group to make arrests at the Mole.
Mercy positioned some men to guard the windows, back door, and roof hatch of the Mole, and then stormed in and confronted Verus, the grandfather of the managing family. Verus played the fool while Mercy announced that he was charged with 2 counts of attempted murder and 2 counts of murder by the Syndic's magistrates. A bloodbath ensued when some attempted to flee out the back and the local Blues unsheathed their weapons. A dozen Blues were killed and then Mercy ordered the wizard Silent to step in. Silent dispersed dangerous bald-faced hornets which attacked only their enemies.
After the crowd in the main room of the Mole was subdued, Silent used his magic skills to detect a hidden chamber beneath the establishment's wine cellar. It contained the most well-known, conservative members of the Blue leadership, who were arrested with the others. As Mercy, Croaker, and Silent herded their prisoners toward the Bastion, they saw the legate from the northern empire for the first time.
Community content is available under
CC-BY-SA
unless otherwise noted.