Bleak Seasons by Glen Cook is the seventh book of the Black Company series and the first novel in the Books of Glittering Stone tetralogy.
"
Let me tell you who I am, on the chance that these scribblings do survive... I am Murgen, Standard-bearer of the Black Company, though I bear the shame of having lost that standard in battle. I am keeping these Annals because Croaker is dead, One-Eye won't, and hardly anyone else can read or write. I will be your guide for however long it takes the Shadowlanders to force our present predicament to its inevitable end..."


So writes Murgen, seasoned veteran of the Black Company. The Company has taken the fortress of Stormgard from the evil Shadowlanders, lords of darkness from the far reaches of the earth. Now the waiting begins.

Exhausted from the siege, beset by sorcery, and vastly outnumbered, the Company have risked their souls as well as their lives to hold their prize. But this is the end of an age, and great forces are at work. The ancient race known as the Nyueng Bao swear that ancient gods are stirring. The Company's commander has gone mad and flirts with the forces of darkness. Only Murgen, touched by a spell that has set his soul adrift in time, begins at last to comprehend the dark design that has made pawns of men and god alike.

"
Bleak Seasons was published as a standalone novel (with the exception of the Russian 2-novel combos) in the following editions, translations, and formats. They are listed in order of publication, earliest first; some reappearances of the same translation may be grouped together. See also Books of Glittering Stone for the list of omnibuses in which Bleak Seasons appeared.
Russian (1997 AST Dragon Age Chronicles)
[
edit
|
edit source
]
This edition was part of the publisher's Dragon Age Chronicles (Век Дракона Хроники / Vek Drakona Khroniki) series.
Russian (2000 AST Golden Fantasy) novel pair
[
edit
|
edit source
]
This single hardcover containing both Bleak Seasons and She Is the Darkness was part of the publisher's Golden Fantasy series (Золотая серия фэнтези / Zolotaya seriya fentezi).
The French translation, first published by L'Atalante, features original artwork by Didier Graffet throughout the book.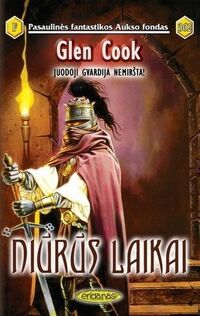 The same French translation previously published by L'Atalante (scroll farther up) was republished by J'ai lu in smaller paperback format [poche] with cover art by Johan Camou (left); this cover art was later replaced by the more abstract art of Slava Gerj (right) when the publisher did a cover refresh.
Russian (2008 AST Dragon Age 2) novel pair
[
edit
|
edit source
]
This single hardcover containing 2 novels was part of the publisher's Dragon Age 2 series (Век дракона 2 / Vek Drakona 2).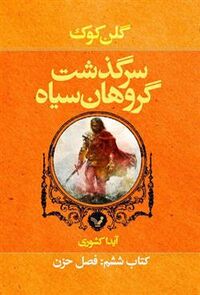 Community content is available under
CC-BY-SA
unless otherwise noted.